(This story was originally shared in December 2021. We are sharing it again because of its timeless message.)
The holidays can be an especially precarious time for people experiencing abuse. Though violence can increase this time of year with added stress over expenses, traveling, and the anticipation of seeing extended family members, reporting often tapers off. The reasons vary, but for parents, many hope to maintain some stability for their children through the holidays, while some abusers convince their partners that "things will be different" around the holidays. Others may choose not to leave an abusive partner so they don't have to explain it to relatives at holiday gatherings.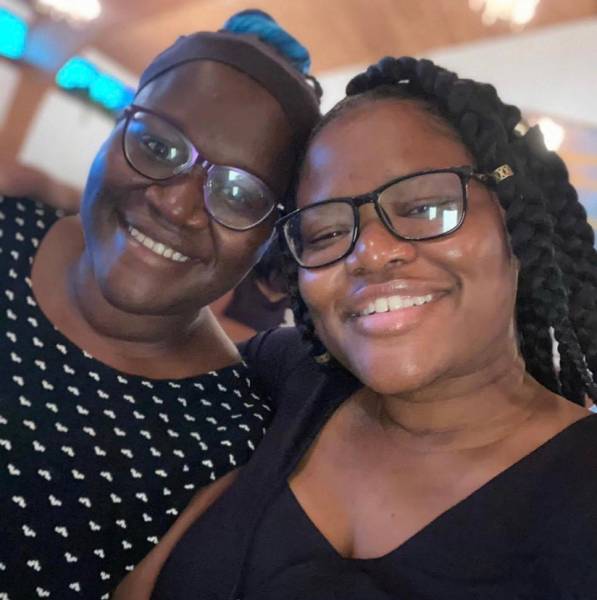 Cariesha Ellington's sister LaDawndra (pictured on left) was murdered in 2020 by her boyfriend, and their family now faces the third holiday season without her. For nearly 40 years, their family tradition has involved gathering at their grandmother's house on Christmas Eve, and it was a time Cariesha looked forward to spending with her sister – talking, laughing, and catching up, since Cariesha had been living two hours away and didn't see her sister as often as she'd liked.
"The main part I miss is just talking to her," said Cariesha. "I never thought I would have to spend a Christmas without her. I thought the first one was hard, but the second one is even harder, because I can't believe she is still not here and is never going to be here again."
Cariesha still enjoys planning and shopping for the holidays, though it's difficult not seeing LaDawndra's name on her gift-giving list.
"The hardest part of my sister's loss is to say that she was a victim of domestic violence," said Cariesha. "In my family, we are not victims – we are strong, we are resilient, and we are survivors. To label my sister as a victim has been impossible, and I have only recently been able to say it out loud. This man I never met decided that he had the power to take my sister's life. He treated her like she was nothing, and she was my everything."
Not having been in a similar situation herself, Cariesha admits her first instinct is to tell people in abusive relationships to "just leave." However, she's aware it isn't nearly that simple.
"Domestic violence victims face too much judgment. It's so much deeper than what we see from the outside looking in," said Cariesha. "Often, they are scared and feel alone, so let them know you are there for them, be their advocate, and be their shoulder to lean on. I'll never get the chance to be there for my sister the way she deserved, so be there for those who need it. No one deserves to be treated the way my sister was."
If you'll be gathering this holiday season with people you haven't seen in a while, there are several things to watch for if you suspect abuse:
Injuries
Tension or anxiety around a partner
Frequent texts or calls from a partner who isn't present, and an urgency to respond quickly
People experiencing abuse may not be ready to discuss the situation. Let them know you're glad to see them and are available to talk. Consider slipping them the crisis phone numbers for The Center for Women and Families (1-844-237-2331) or the National Domestic Violence Hotline (800-799-7233).