Training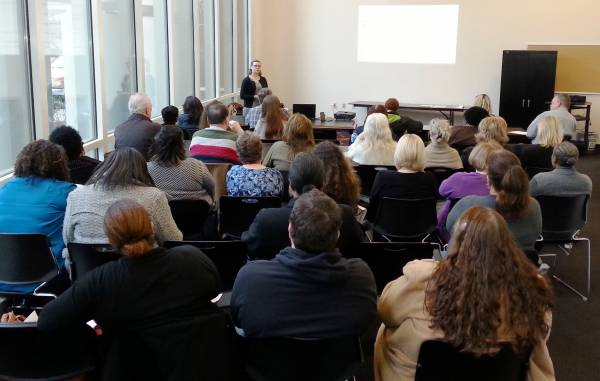 Everyone has a role to play in preventing violence, and professionals who work with survivors of violence can serve an especially important role in recognizing this issue and ensuring survivors' safety and well-being. Because intimate partner violence and sexual assault are pervasive issues in our communities, our response to these issues must also be coordinated and comprehensive.
Professionals play a crucial role in both preventing and responding to intimate partner and sexual violence through their daily interactions with their clients, customers, patients, and even their own employees. The Center for Women and Families offers training to community professionals to provide skills needed to recognize, respond to and even prevent intimate partner and sexual violence.
Through The Center's professional training program, we work with you to enhance your staff's understanding of the dynamics of intimate partner violence and develop your competency for responding safely and compassionately to clients, patients, or co-workers who have experienced intimate partner violence or sexual assault.
The Center facilitates training with medical and nursing students, police, judges, educators, Human Resources professionals, salon professionals, public transportation employees, social service providers, and more.
Some of our current training clients include:
University of Louisville School of Medicine
University of Louisville School of Nursing
Bellarmine University
Family Health Centers
Louisville Metro Department Code Enforcement
Kentucky Personnel Cabinet
Humana
Training topics include Recognizing and Responding to Intimate Partner Violence, Intimate Partner Violence in the Workplace, and Engaging Communities in Violence Prevention.
Training can be modified to meet your desired learning objectives and are offered at an affordable hourly rate. Our team can host your training at The Center's office, present at your work site, or at another preferred location at a time and day convenient for you. We can present at sites in any of the Kentucky and Indiana counties we serve: Jefferson, Bullitt, Oldham, Shelby, Trimble, Spencer, Henry (KY) and Clark and Floyd (IN). In order to continue supporting The Center's education and advocacy efforts, we typically request a small fee for trainings, depending on your organization's size and ability to pay; fees can be negotiated upon request.
To inquire about The Center's Professional Training services and fees, call 502-581-7208 or email the training team through training@cwfempower.org.