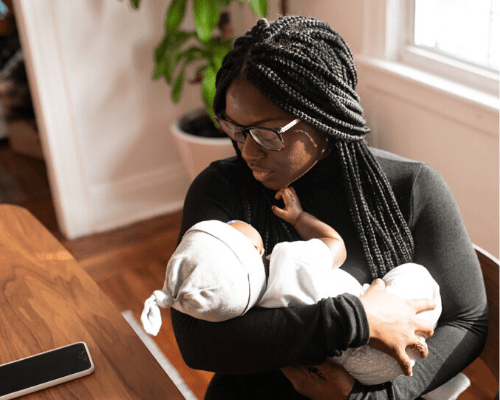 Erica came to The Center for Women and Families in April during the height of the Covid-19 pandemic feeling fearful, anxious, and she was nine-months pregnant. Getting closer and closer to her due date and needing round-the-clock access to medical care, she and her advocate determined that a hotel near the hospital was the best place for her to quarantine as she awaited the birth of her new baby.
While an impersonal hotel room away from familiar comforts was not ideal, for Erica her home was not a safe place to be. Her boyfriend, the baby's father, had become increasingly violent especially after feeling the stress of losing his job and living in quarantine due to Covid-19. Afraid for the safety of her baby, Erica had to leave, so she came to The Center for help.
The Center is committed to being available 24/7 for those fleeing intimate partner violence. Even during a pandemic, The Center has remained open as the devastating effects of Covid-19 spread across Kentuckiana this spring. Unfortunately, with mass quarantines and the additional stress of unemployment, homeschooling, and increased substance abuse, domestic violence rates have skyrocketed. However, The Center has (and will) remain open as long as we are needed.
But we cannot do it without you.
Help us continue this essential service in our community during this devastating and unforeseen crisis by making a gift. If you make your gift now, you can double your impact – Jarboe's HVAC & Plumbing has generously offered to match gifts to The Center in July up to $5,000!