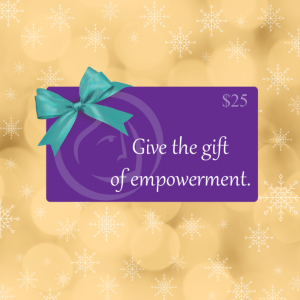 2018 HOLIDAY GIFT CARD DRIVE
THE CENTER FOR WOMEN AND FAMILIES
ENCOURAGE EMPOWERMENT BY GIVING A GIFT CARD
LOUISVILLE – KY, Almost 1,000 Kentuckiana adults and children surviving intimate partner abuse and sexual violence will rely on The Center for Women and Families' (CWF) gift card drive to shop for their family around the holidays and throughout the year.
The Center for Women and Families is pleased to partner with all Republic Bank locations in Louisville and S. Indiana on the 2018 CWF holiday gift card drive and will serve as drop off locations for the cards from November 19 through December 21.
The Center's gift card drive asks individuals, businesses, and community groups to purchase and deliver gift cards in increments of $25 in lieu of bringing gifts to the shelter.  Giving gift cards allows parents to purchase gifts the children need or want around the holidays but also gives them support year-around for living essentials.  Giving choices and control back to a domestic or sexual assault survivor gives them empowerment.  That might be the best gift to a survivor of all.  Gift cards also allow residents living in an emergency shelter to safely shop online for their holiday gifts and nonresidential support groups to shop together on designated shopping days.
"The gift card campaign gives those in their darkest hours a sliver of hope around the holidays and sustainability when they need it most" says Elizabeth Wessels-Martin, President/CEO at The Center for Women and Families. "Giving survivors the power that comes along with making decisions about which gifts will bring the most joy to their family is what The Center's mission is all about," Wessels-Martin added.
The Center prefers gift cards from retailers such as Meijer, Kroger, Target and Wal-Mart.  In addition to these retailers, The Center also welcomes Visa/MasterCard gift cards. For more information, visit www.thecenteronline.org, contact 502-581-7207, or contact Laura Brock at Laura.Brock@cwfempower.org
Drop-off locations:
Louisville
 The Center for Women and Families
927 S. Second Street, Louisville KY
Or, mail to:
The Center for Women and Families
ATTN: Development Office
PO Box 2048
Louisville, KY 40201-2048
(Please include your name and mailing address with the cards.)
Republic Bank
2801 Bardstown Road
601 West Market Street
661 S Hurstbourne Parkway
4921 Brownsboro Road
4808 Outer Loop
5250 Dixie Highway
3950 Kresge Way
9600 Brownsboro Road
3726 Lexington Road
10100 Brookridge Village Blvd.
9101 US Hwy 42
2028 West Broadway
11330 Main Street
3902 Taylorsville Road
1420 Poplar Level Road
3811 Ruckriegel Parkway
5125 New Cut Road
438 Hwy 44 East
Southern Indiana
Republic Bank (Southern Indiana)
4751 Duffy Rd, Floyds Knobs, IN
3141 E. 10th Street, Jeffersonville, IN
3001 Charlestown Rd, New Albany, IN