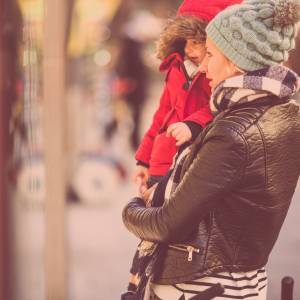 Many times victims of intimate partner violence have little or no control over how money is spent or how needs of the family are met. They often have been trapped in an environment where they have little say over anything.
The Center believes that each person should get to make their own choices. Survivors who get support to make informed decisions that best reflect their interests and needs feel empowered, and that is a huge step towards healing.
That is why during the holiday season we ask that supporters wanting to give gifts to The Center give gift cards. Survivors of intimate partner abuse and sexual violence have often been disempowered for a long period of time. The hope that comes along with being able to make decisions about which gifts will bring the most joy to your family is priceless.
Giving a $25 gift card to a box store such as Kroger, Meijer, Target or Walmart allows men and women to shop for their specific needs or wants.  It can give them a choice to shop from the safety of shelter online or to go on a group shopping trip to the store at a designated time.  Giving a gift card is truly giving the gift of empowerment. The Center's Gift Card Campaign runs from November 16 – December 22.  You can drop off donations at any area Republic Bank or at The Center for Women and Families.
NEW THIS YEAR – Donate Gift Cards Online.

It's quick and easy to donate a card online this year, just select how many cards you would like to donate and we'll take care of the rest.   DONATE NOW.
Louisville Drop-off locations:
The Center for Women and Families: 927 S. 2nd St., Louisville, KY
Louisville Republic Banks
Baptist Health: 3950 Kresge Way Ste 108, Louisville, KY
Bardstown Road: 2801 Bardstown Rd., Louisville, KY
Blankenbaker: 11330 Main St., Louisville, KY
Broadway: 2028 W. Broadway Ste 105, Louisville, KY
Brownsboro Road: 4921 Brownsboro Rd., Louisville, KY
Corporate Center: 601 W Market St., Louisville, KY
Crestwood: 6401 Claymont Crossing Ste 1, Crestwood, KY
Dixie Highway: 5250 Dixie Highway, Louisville, KY
Elizabethtown: 1690 Ring Rd., E-Town, KY
Fern Creek: 10100 Brookridge Village Blvd., Louisville, KY
Hikes Point: 3902 Taylorsville Rd., Louisville, KY
Hurstbourne: 661 S. Hurstbourne Parkway, Louisville, KY
Jeffersontown: 3811 Ruckreigel Parkway, Louisville, KY
New Cut: 5125 New Cut Rd.,  Louisville, KY
Outer Loop: 4808 Outer Loop,  Louisville, KY
Poplar Level: 1420 Poplar Level Rd., Louisville, KY
Prospect: 9101 US Highway 42, Prospect, KY
Shelbyville: 1614 Midland Trail,  Shelbyville, KY
Shepherdsville: 438 Highway 44 East, Shepherdsville, KY
Springhurst: 9600 Brownsboro Rd., Louisville, KY
St. Matthews:  3726 Lexington Rd., Louisville, KY
Southern Indiana Drop-off locations:
The Center for Women and Families: 4919 Charlestown Rd., New Albany, IN
Southern Indiana Republic Banks
Floyds Knobs: 4751 Duffy Rd, Floyds Knobs, IN
Jeffersonville: 3141 E. 10th Street, Jeffersonville, IN
New Albany: 3001 Charlestown Rd, New Albany, IN
Gift Card Mailing Address:
The Center for Women and Families
ATTN: Development Office
PO Box 2048
Louisville, KY 40201-2048
(Please include your name and mailing address with the cards.)