Love in a New Light Virtual Concert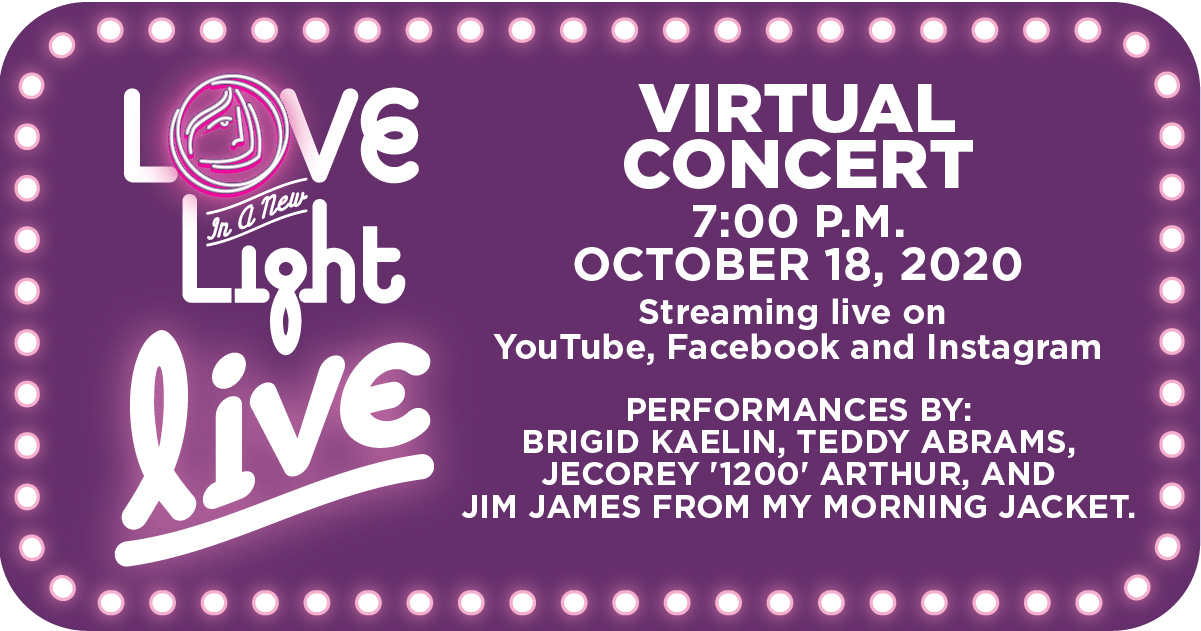 We are thrilled to be joining forces with:
Jim James from My Morning Jacket
Teddy Abrams
Jecorey '1200' Arthur
Brigid Kaelin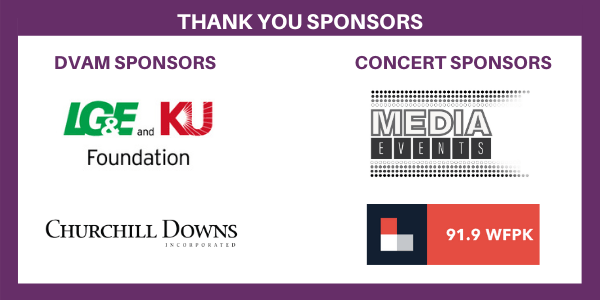 Jim James from My Morning Jacket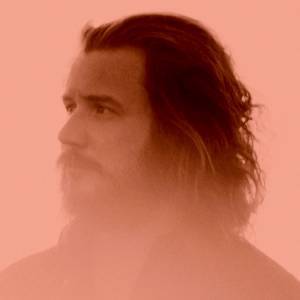 Jim James has spent the better part of almost two decades as the lead singer, songwriter and multi-instrumentalist of My Morning Jacket. Through seven studio albums, My Morning Jacket has grown into one of the most acclaimed rock and roll bands in the world. The New York Times heralded the band as, "…the new kings of expand-your-mind, religious-experience rock…" Their last three albums, 2008's Evil Urges, 2011's Circuital and 2015's The Waterfall, each received Grammy nominations for Best Alternative Album — the latter debuting at number 5 on the Billboard 200 chart. Alongside the band's recording and touring, James has maintained a steady, bordering on voracious, flow of work.
In 2013, James released his debut solo record, Regions of Light and Sound of God. James wrote, produced and played all instruments himself (except for strings and some percussion) for the record, which was inspired by life and the 1929 novel (written in woodcuts), 'God's Man' by Lynd Ward. It was named one of the best albums of the year by PASTE, MTV and FUSE and was "the year's first great record" (GQ). A performance of track "A New Life" on the then-hosted Late Night earned high praise from the now-Tonight Show host, Jimmy Fallon just this year: ""…to this day my favorite musical performance was 'A New Life' on Late Night that we did…He [Jim James] is fantastic. I love him".
In 2016 James released the politically charged solo record, Eternally Even. Rolling Stone described as, "nine flamboyantly spiritual songs wrapped in creamy electronics and set to funk and hip hop beats…an eccentric, gently compelling pleasure. [Jim James] renders his change gospel with conversational grace, Bill Withers warmth, Sly Stone optimism and Neil Young conviction". The album's release saw him embark on a national tour with appearances on the Tonight Show, the Late Late Show with James Corden and a debut at #1 on Billboard Alternative chart. The album topped many year-end 'best' lists, with NPR praising the record's "arresting, soulful … transcendent tunes".
James' released his third solo album, Uniform Distortion, in June 2019, which was received with immediate acclaim. "A giddily powerful response to these troubled times," hailed the Guardian in its 4-star review. "His mix of musical joie de vivre and lyrical home truths prove fiendishly effective." The Washington Post said, "With driving guitar riffs and catchy hooks combined with his signature soaring vocals, James delivers an utterly engaging, hard-charging, straight-ahead record that almost feels like a throwback to a different era while also being very much current," while American Songwriter claimed, ""There are enough artistic twists and turns to please even the most dedicated Jacket fan, showing that James remains as musically edgy as ever on an album that pulses with energy, enthusiasm and the restless spirit James has always personified." Four months after Uniform Distortion was released, James followed with the companion record of Uniform Clarity comprising acoustic renditions of the songs in a more stripped down and honest response to what went before.
Although splitting his time between LA and Kentucky, James has little plan to remain in one place. James has continued expanding on his zealous lists of credits, lending his voice to albums by the likes of the Roots, David Lynch, Brandi Carlile and John Fogerty and partnering with other artists on numerous side projects such as New Multitudes, Monsters of Folk, and T-Bone Burnett's The New Basement Tapes. Known for his live performances, James has found himself in the touring company of those like Neil Young, Pearl Jam, and Bob Dylan – even appearing in the Dylaninspired film, I'm Not There – and My Morning Jacket supported Roger Waters as his surprise backing band during famed Newport Folk Festival in 2015. He has embedded himself in the world of film and television, be it through the use of his music in various projects or his long-running relationships with those in the field. James has also established himself as a producer in his own right, producing records by Preservation Hall Jazz Band, Dean Wareham, Basia Bulat, Amo Amo, and Ray Lamontagne's Ouroboros (2016), the same year in which he collaborated with NASA for the launch of their Juno Mission and Sundance Film Festival and their "Freedom of Expression" event. In the fall of 2018, James embarked on successful, intimate, career-spanning solo acoustic tour, which saw him play sold out dates through historic theatres and performing arts centers across the United States. In January 2019, James brought this career-retrospective – now fully solo acoustic – to select dates in Europe and the United Kingdom.
Teddy Abrams,Music Director
Abrams is the acclaimed Music Director of both the Louisville Orchestra (LO) and the Britt Festival Orchestra. As an advocate for the power of music, Abrams has fostered interdisciplinary collaborations with organizations including the Louisville Ballet, the Center for Interfaith Relations, Oregon Shakespeare Festival, the Speed Art Museum, and the Folger Shakespeare Library. His rap-opera, The Greatest: Muhammad Ali, premiered in 2017, celebrating Louisville's hometown hero. Abrams' work with the Louisville Orchestra has been profiled on CBS News Sunday Morning, NPR, and in The Wall Street Journal.
Abrams recently collaborated with Jim James, vocalist and guitarist for My Morning Jacket, on the song cycle The Order of Nature, which they premiered with the LO in 2018 and performed with the National, Seattle, and Colorado Symphonies this season. Abrams and James performed with an ensemble of Louisville Orchestra Musicians on The Tonight Show with Jimmy Fallon. Also in 2019-20, Abrams marked his debut as guest conductor with the Orchestre Philharmonique du Luxembourg and the Sarasota Orchestra and returns to the San Francisco Symphony in his subscription debut.
Highlights from the 2018-19 season included his debut with the National Symphony Orchestra in a celebration of Leonard Bernstein's centenary at the Kennedy Center, and engagements with the Utah, Wichita, Eugene, and Elgin Symphonies, and the Sun Valley Music Festival. Recent guest conducting highlights include engagements with the Los Angeles Philharmonic, Houston, Milwaukee, Vancouver, and Phoenix Symphonies; Saint Paul Chamber Orchestra; and the Florida Orchestra. He has enjoyed a longstanding relationship with the Indianapolis Symphony, and recently conducted them with Time for Three for a special recorded for PBS. He served as Assistant Conductor of the Detroit Symphony from 2012-2014. From 2008-2011, Abrams was the Conducting Fellow and Assistant Conductor of the New World Symphony (NWS).
An accomplished pianist and clarinetist, Abrams has appeared as a soloist with a number of orchestras—including play-conducting the Ravel Piano Concerto with the Fort Worth and the Jacksonville Symphonies—and has performed chamber music with the St. Petersburg String Quartet, Menahem Pressler, Gilbert Kalish, and John Adams. Dedicated to exploring new and engaging ways to communicate with a diverse range of audiences, Abrams co-founded the Sixth Floor Trio in 2008. Together, they founded GardenMusic, the music festival of Fairchild Tropical Garden in Miami;
Abrams was a protégé of Michael Tilson Thomas from the age of eleven, and studied conducting with Otto-Werner Mueller and Ford Lallerstedt at the Curtis Institute of Music, and with David Zinman at the Aspen Music Festival; he was the youngest conducting student ever accepted at both institutions.
Abrams performed as a keyboardist with the Philadelphia Orchestra, won the 2007 Aspen Composition Contest, and was the Assistant Conductor of the YouTube Symphony at Carnegie Hall in 2009. He has held residencies at the La Mortella music festival in Ischia, Italy and at the American Academy in Berlin. Teddy was a proud member of the San Francisco Symphony Youth Orchestra for seven seasons, and graduated from the San Francisco Conservatory of Music with a Bachelor of Music, having studied piano with Paul Hersh.
Jecorey "1200" Arthur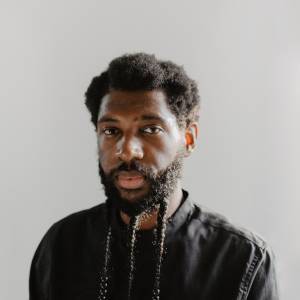 Jecorey "1200" Arthur is an award-winning teacher, musician, and activist from the West End of Louisville, KY. He has taught around the world, performed with dozens of symphony orchestras, and provided workshops, lectures, and content educating people about the state of Black America. He fuses classical music with his hip hop roots to address themes of expression, oppression, and progression.
Photo Credit: Brizzy Rose
Brigid Kaelin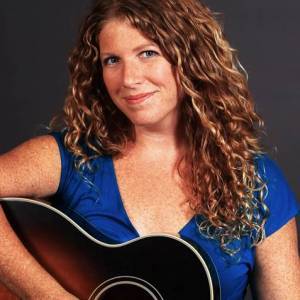 Musician, speaker, and author Brigid Kaelin has played with musical heroes from Cowboy Jack Clement to Elvis Costello and has performed on the BBC, A Prairie Home Companion, Nashville Star, and more. She plays more than ten instruments, tours Europe at least once a year, yet remains a staple in the Louisville music scene. Brigid is occasionally the co-host of the 30-year-old variety show Kentucky Homefront. As a writer, she's had bylines in Salon, Louisville Magazine, LEO, ScaryMommy, and she's finishing up a memoir, to be published in 2022. Brigid blogs at The Red Accordion Diaries, sharing adventures in travel, whiskey, and motherhood and her newest challenge: breast cancer.