Crises don't wait for a convenient time to happen, and that's why The Center for Women and Families' crisis phone line is available 24/7 to help people experiencing domestic, intimate partner or sexual violence become survivors. The call center team members, or crisis response advocates, who answer calls are essentially the Center's "front line workers." In times of uncertainty and desperation, our advocates are trained, compassionate confidantes who will listen and respond to people who feel they have nowhere else to turn.
To date in 2021, the Center has received 3,329 crisis calls. Read on to learn more about this important lifeline and the people on the other end, and don't hesitate to reach out for help anytime: 1-844-237-2331.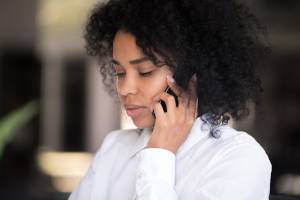 Why do people call the Center?
Many callers to our crisis phone line are interested in our emergency shelter program or other housing options as they work to flee from violence. Sometimes we have the capacity to offer this, but when we can't, our crisis response advocates work with callers to identify other local and national resources that best meet their needs.
In addition to those seeking shelter, many callers are looking for direction and emotional support.
"There are many things I love about doing this work, but one of my favorites is the opportunity to offer validation and education around intimate partner violence (IPV) to clients," said Karen Hardt, Crisis Response Advocate Lead. "Abusers often use isolation to gain and maintain power and control, which often means our clients don't have people in their lives who are able to validate the prevalence of IPV and tell them it's not their fault and that they don't deserve this. It is an honor to offer this support and be a witness as they connect these pieces, learn to recognize the tactics of abuse, and begin to believe they deserve better."
How do I know if I should call the Center for help?
We believe each person is the expert on their situation, safety, and relationship. There are many complexities within abusive relationships, and our advocates do not have a quick fix nor all the answers. However, they will do their best to brainstorm options and create safety plans with callers based on their needs and wants.
A caller does not need to have already left or even want to leave the relationship to use our services. They'll speak with a non-judgmental, supportive advocate who recognizes all forms of IPV and understands there are often just as many reasons to stay as there are to leave, and sometimes those reasons even overlap.
What should I expect if I call the hotline?
Crisis response advocates answer all calls by identifying themselves and asking how they can help. The conversation continues based on the caller's response. For example, when a caller requests shelter, our advocates determine whether IPV and/or sexual assault is a threat and assess the caller's current safety concerns and shelter options. We ask open-ended questions to invite callers to describe how the Center may help them. There are a multitude of options based on the information the caller shares with us.
How has COVID-19 affected the Center's crisis line?
To adapt the hotline's operations to local and state pandemic regulations and keep the phone line available at all times, the Center can answer calls both off and onsite at the downtown Louisville campus. The number of those working remotely at any given time is based on the availability of phone equipment, as well as historical call volume trends and client and staff needs.
Throughout the pandemic, our advocates have noticed that callers are increasingly hesitant to relocate or stay in homeless shelters out of fear for their health as well as physical and emotional safety. Additionally, most shelter options available are operating at a limited capacity in response to risks of spreading COVID-19, which limits what is available for those in need. As a result, staff continue to work with clients on possible relocation options, including assistance in relocating to stay with family out of town or out of state.
In their words: Testimony from a crisis response advocate
"I remember when a former client called needing help. The call began with the client acting as if they were on the phone with a friend. By asking questions, I learned the perpetrator was holding the client against their will in a hotel, and the client wanted me to send police. The client, however, couldn't speak freely to provide the address or information about the hotel. I used questions to narrow down possible hotels and called the police. Police were able to respond and safely get the client out of harm's way." – Karen Hardt
Questions about the Center's 24/7 crisis phone line? Contact us at 1-844-237-2331 to speak directly with a crisis response advocate.