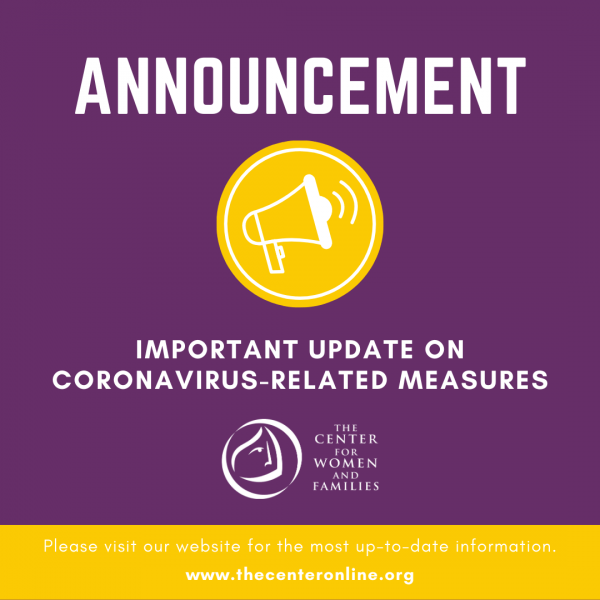 3/16/2020 Effective Immediately
For the most up-to-date information about the coronavirus crisis in Kentucky and for recommendations, see the state website: www.kycovid19.ky.gov.
The Center for Women and Families will continue to offer services to survivors of sexual and domestic violence free of charge 24/7.  We are taking the following measures and precautions due to the presence of the Coronavirus in the Louisville Community.
SERVICES:
In order to increase distance and minimize traffic in the building The Center is requesting all persons seeking services first contact our crisis and information line at 1-844-237-2331 / 502-581-7222.  We are asking that you have an appointment scheduled to come to The Center's campus.  Same day appointments can be made by calling the crisis and information line listed above.
We are offering altered services at this time to reduce everyone's change of exposure to Coronavirus. Our hotline and shelter will continue to operate, some supportive services will be provided via phone or FaceTime. Meetings and groups at The Center are currently cancelled.
We realize home is not the safest place for everyone and will continue to help safety plan and work with anyone seeking our services to our best ability.
DONATIONS:
Until further notice The Center for Women and Families will only be accepting the following in-kind donations:
temporal thermometers
hand sanitizer
We ask that everyone hold in-kind donations of new clothing, toiletries etc. until further notice.  Monetary donations can be made online or via mail.
We are taking additional safety precautions as needed per recommendations from the CDC and Jefferson County Health Department.
We are closely following and monitoring coronavirus updates and will be revising our plans as needed when new information is available from officials.  The most up-to-date information from The Center can be found on our website, www.thecenteronline.org.