Beginning January 1, 2019, The Center's Southern Indiana Campus put into motion a new program model that reaches more domestic violence victims from across the education and socioeconomic spectrum than ever before. The Mobile Advocacy Program places advocates throughout Floyd and Clark counties, making them more accessible to the people who need our services. There can be many barriers that prevent someone from seeking our help, such as a lack of transportation or childcare, feelings of embarrassment or shame, fear of new places, lack of time, etc.  We want to make it as easy as possible for people to get our services. This mobile office allows advocates to meet people where they are- literally and figuratively. Customized services provide better care and individualized attention for the survivors that each advocate serves. Director of Southern Indiana Programs Shelley McDonald says, "With the mobile model we are able to tailor the program to each individual, providing exactly what services they need when and where works for them. It's been great to be out in the community more and learn what survivors of domestic violence really need help with."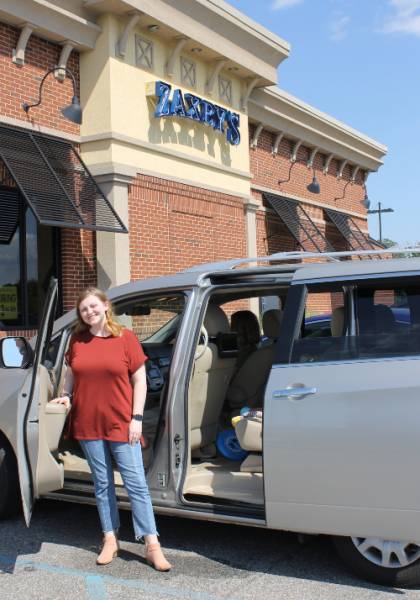 To date, The Center has served approximately 200 individuals in Southern Indiana alone this year through the Mobile Advocacy Program. We just hired five new advocates and are looking forward to serving even more individuals. Being out in the community has created more opportunities to expand awareness of our services and we expect the number of individuals and families we serve to rise.  With the generosity of the UPS Foundation The Center is purchasing another new vehicle which is important in the success of our mobile advocates. Everything an advocate will need is inside the minivan, including space for the children equipped with games, art supplies and movies.
One Southern Indiana survivor, Lori, has been receiving services for a while. She attributes her success and safety to her advocate and The Center. Without the Mobile Advocacy Program, she wouldn't have been able to receive the help she needed. Lori first met an advocate in the courthouse after struggling to gain an emergency protective order (EPO) from her abuser. An advocate approached Lori and the relationship began. Through working with The Center, Lori has learned to set boundaries to protect herself while she co-parents with her ex-husband. She has been able to learn about self-care and get her confidence back.
Many like Lori have barriers that make it harder to get help. "[The advocate] came to meet me on my lunch break in the middle of the day… It was my only free time since I'm a single working mom," said Lori. Removing the lack of time barrier for Lori allowed us to serve her and help her take away her abuser's control over her life.  Lori says, "My future is so bright!"