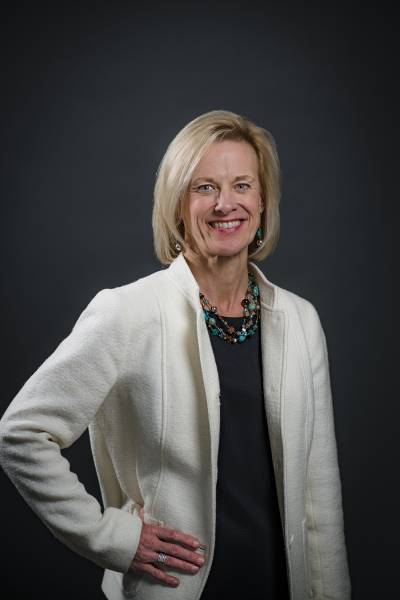 The Center for Women and Families Names Elizabeth Wessels-Martin CEO
Louisville, Ky (February 15, 2018) – The Center for Women and Families has announced the selection of Elizabeth Wessels-Martin to the position of President/CEO, effective March 1, 2018. She succeeds Marta Miranda Straub, who is retiring after 7 years of exemplary leadership.
A diverse selection committee of nine members, representing numerous Center constituents, participated in the search for The Center's new CEO.  After multiple rounds of initial interviews with local and non-local candidates, the committee remarks "We found ourselves in the desirable situation of selecting the best contender among numerous qualified applicants. We carefully considered the strengths and backgrounds of several potential new CEOs, and ultimately chose the candidate that exhibited the strongest skill sets best aligned with the organization's future trajectory."
Elizabeth Wessels-Martin brings with her over 18 years of senior-level experience in management of profit and non-profit organizations along with an impressive client-focused social work background. She is a longtime resident of Louisville and graduate from Kent school of Social Work – University of Louisville.  Wessels-Martin most recently held the position of Vice President of Business Development and Community Programs at Hosparus Health, Inc. While at Hosparus, she developed and launched a community-based pilot program for palliative care, and dramatically increased census for children and their families over 800% while serving as an interim program director of Kourageous Kids. Her diverse programmatic and operational experience coupled with a passion for quality client-centered services make her a great fit for The Center's mission and commitment to the community.
"As a long time social worker, I have had a passion and commitment to ending domestic violence and sexual assault.  If any victim of domestic violence can find the safety, resources and support that he/she needs to transform their lives I can't help but think we could help reduce violence." remarks Wessels-Martin. "I am thrilled to join an agency that is not only a crisis response organization on the front lines of this work but also is actively engaged in violence prevention.  With the outpouring of #MeToo and the recent spike of domestic violence homicides in Louisville the violence can seem overwhelming.  However, The Center has a great track record of partnering with the community to make it safer and I'm excited to help build on that movement."
About The Center for Women and Families
The Center for Women and Families provides assistance to all victims of domestic or sexual violence as well as family, friends, and partners. In addition to serving the immediate and long term needs of survivors they also work to promote healthy relationships and to prevent violence from occurring through prevention programs and community education.  The Center is the only domestic violence + rape crisis center in it's nine county Kentuckiana service area. Services are safe, free, and confidential. Help is available 24 hours a day, 365 days a year through a toll-free crisis line: 1-844-BE-SAFE-1.  For additional information, visit www.thecenteronline.org.
Media Contact:
Kiera Hall, Communications Manager
502-581-7261
kiera.hall@cwfempower.org
###