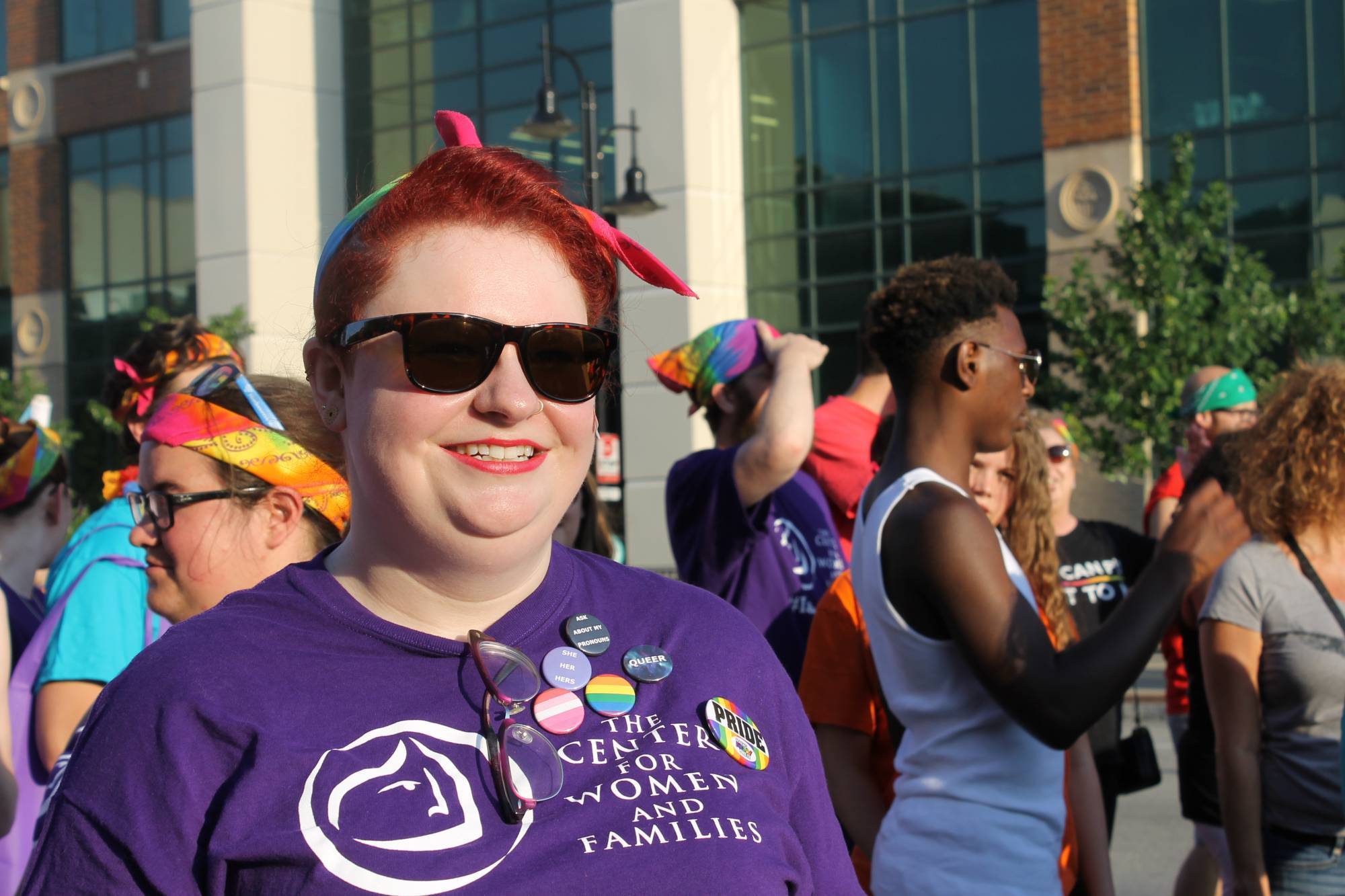 One refrain that I and many others at The Center repeat when we offer trainings and speak to community members is that the Center for Women and Families is here for ALL survivors of intimate partner violence and sexual assault—that is, we're here for people of ALL genders and ALL sexualities. Our banner on each of our brochures and our website reads "We serve all individuals regardless of race, color, religion, gender, national origin, age, familial status, gender identity, sexual orientation, immigration status, language proficiency, disability, veteran status, political affiliations or beliefs" and this is something that I am really passionate about and proud of as an organization.
As an advocate, I know that no two clients are alike, and it is my joy to meet whoever walks through our doors for services. I also know that it is extremely hard to reach out for services when you are a member of the LGBTQ+ community for so many reasons—there is fear that you might know whoever is at the other end of the phone or on the other side of the door and lose your anonymity, or that the staff that you are going to talk to are not well prepared to talk to you about your experiences, or that you will be met with judgment instead of compassion. Part of the reason I love working at The Center is that I get an opportunity to change this for our clients and coworkers. I have helped lead trainings on serving the LGBTQ+ population for coworkers, other advocates, and volunteers, and helped write a brochure on Intimate Partner Violence in the LGBTQ+ Community for our agency. At many organizations these types of activities would not be so supported and because of that, I am grateful every day that I work at The Center. I am so lucky to have landed at an agency that is embracing of our LGBTQ+ community, and for me PRIDE is a great opportunity to reach out and to reflect on the history of our LGBTQ+ community, our activist past, and those we have lost over the past year, as well as ways to support those who are still with us.
Last year I walked with coworkers and friends decked out in rainbow colors and helped carry The Center's banner through downtown and I was able to watch survivors of all genders thank advocates they recognized for their support, warmth, and kind words in the darkest times. The next day I sat at our booth with two amazing coworkers and talked to PRIDE participants one-on-one and in groups as they played Plinko at our table to win buttons and learn facts about The Center and our work. While all of this was fun and a great way to pass a work day, it is more important than that—it is the important work of being present and accessible in LGBTQ+ spaces, especially at times that it is hard or difficult.
Last year, marching in and participating in PRIDE was a heavy event for many people in the LGBTQ+ community. On June 12, 2016 a mass shooting occurred at the Pulse nightclub in Orlando in which 49 individuals lost their lives, many of them being LGBTQ+ and Latinx. This event shook many in the LGBTQ+ community—it made it clear that our safe spaces—safe spaces that forerunners like Marsha P. Johnson and the other folks who participated in events like Stonewall fought hard and risked everything for—were not necessarily so safe. After PRIDE, I remember going to a gathering of other LGBTQ+ folks who were holding space for feelings surrounding PRIDE—the feeling that it was hard to participate while still in mourning for the community, but the feeling that it was necessary, that PRIDE has always been a point of resistance.
PRIDE began years ago within the LGBTQ+ community in part as a commemoration of the Stonewall Riots, a specific instance in which black, white, and Latinx LGBTQ+ patrons at a bar in Greenwich Village stood up for themselves during a police raid at a time in which it was legal to fire people from government jobs for "sexual perversion" and when dancing with or kissing someone of the same gender, or cross dressing, was considered disorderly conduct. The original point of PRIDE was to say that the LGBTQ+ community was here and was not going anywhere, and that LGBTQ+ people deserved to be able to live their lives free from discrimination.
While the original Stonewall Riot occurred years ago, these battles are still being fought daily for many in the LGBTQ+ community, this year perhaps most heartwrenchingly in Chechnya, where the LGBTQ+ community has been heavily targeted and more than 100 people have been said to be abducted and tortured in recent months solely due to their sexuality and gender presentation in what some groups have claimed to be a genocide against the gay population of the country. (Source: Independent)
This year, I will once again march with The Center for PRIDE, but during this march I will turn my thoughts to those in Chechnya who do not have the ability to speak out against LGBTQ+ oppression and lend my voice to them. I will also hold in my heart the many trans women who have been murdered this year. And, as always, I will be advocating and holding space for LGBTQ+ survivors of intimate partner violence and sexual assault and those who have lost their lives over the past year to such violence.
Written by Sarah Pennington, Residential Family Advocate at The Center for Women and Families
Join us for pride!