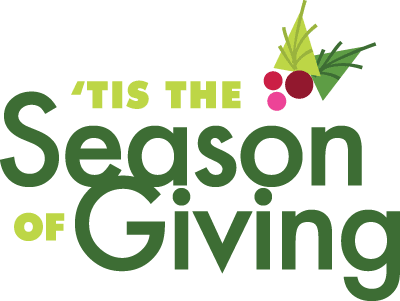 The holidays are here and so is the holiday spirit. Many folks choose to reach out to their favorite charity this time of year and donate time, talent or treasure. We put together a few tips to help you and your favorite organization during this giving season.
If you are donating goods or services contact the organization before you give.  You can get valuable information from talking to them and often avoid frustration or confusion about giving. Have any questions ready when you call. They are happy to talk to you!
Check to see what the organizations donation policy is and what items the do or do not accept.  Organizations may not have the capacity to store goods or may not accept used goods. It is especially true for things like car seats, cribs, and mattresses that would need to meet current safety or sanitary standards. You may have very nice, well-kept items – but always check first! Organizations do appreciate your gifts, but they have to be able to manage them.
Get a list of needed items.  Because of the nature of giving at nonprofits, items needed may fluctuate.   Say someone just did a food drive so the pantry may be stocked but they are completely out of toiletries. Many times the things shelters and other organizations need the most are often things we haven't thought of.   When you ask what they need most places are more than happy to tell you. This can help make a huge impact in meeting the needs of your favorite organization.
Ask where and when you can drop items off.  Some organizations have limited drop off hours or locations to do staff availability or space needs. You don't want to leave your donation outside if the office is closed and who wants to have to make a second trip? Always check to see when and where you can bring your gifts.
If you are running short on time or not sure what to give, consider making an online donation.  It make not give you the same warm feeling as going and buying a bag of gloves and scarves or adopting a family for the holidays, but giving a monetary gift is often one of the best ways to make an impact at an organization. Whether it's $5 or $500, nonprofits count on gifts like this to stay in business. Plus, it's easy to do!  You can make an online give to The Center by clicking here.
Don't have any items or money to donate? Give your time.  Many organizations rely on volunteers to fill holes where they might be short on staff or are volunteer run. Your time is valuable! Check in with your favorite place and keep an open mind. Find out where the needs are and get involved.
HOLIDAY GIVING AT THE CENTER FOR WOMEN AND FAMILIES
The holidays are right around the corner and we are already working with groups and individuals to make the holidays cheerful for our families at The Center. We will be open on two Saturdays prior to Christmas for people to drop gifts. The Center will be open:
Saturday, December 17th from 9:00 a.m. – 1:00 p.m.
Saturday, December 24th from 9:00 a.m. – 1:00 p.m.
It is always helpful if you plan a project to coordinate with The Center. You can call Development Manager Jane White at (502) 581-7209 to discuss or send her an email at jane.white@cwfempower.org.  Here is our holiday wish list:
Emergency Shelter
Gift cards to Kroger help buy RX and OTC meds
Thorntons and Speedway gas cards
New pillows and sheet sets
Blankets (Twin or full size)
Slippers
PJs
Laundry baskets
Laundry pods
Plastic storage bins (under the bed size)
School-aged entertainment DVDs and Leap Frog accessories
Alarm Clocks
Phone minute cards
Underwear – women's, children's – all sizes
Southern Indiana Shelter
Bed-n-a-bag (twin size for both adults and children)
Desk lamps
Alarm clocks
"Luxury items" for clients like gum, candy, cookie mix, brownie mix, ice cream, soda and juice boxes/kool-aid
10 flatscreen TVs (TV/DVD Combo), one for each client room
$10 gas cards from Meijer or Kroger
Sexual Assault Clinic
Clothing supplies for SAFE Clinic – scrubs and sweats – all sizes
KY Outreach
Gas Cards
Lotions (women and men's)