Employment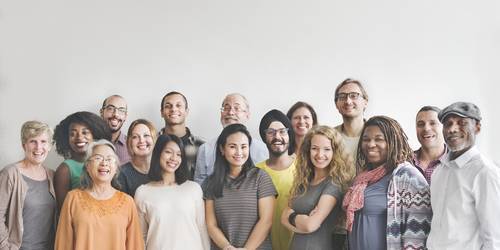 When you choose to work at The Center for Women and Families you choose to make a difference in another person's life every day. With more than 90 dedicated employees, The Center offers hope, safety, shelter, healing, and advocacy to those who have been victimized by intimate partner violence and sexual assault. Because we are committed to ending violence, many of our staff members also work in schools and other community locations, leading workshops and projects to empower citizens to make a difference.
At The Center, we have a commitment to affirming diversity and inclusion. We value each staff member's individuality and the experiences that make each of us unique. Embracing diversity not only enhances our work place, but it also is key in driving our mission. We take pride in maintaining and growing an organizational climate and culture that is empowering to both clients and staff, and that can only be enhanced by diverse experiences and perspectives. In addition, we are stewards of other's trauma as well as other's resources, and we take very seriously the trust given to us by our clients, community, and donors. We are an agency grounded in integrity, trust, diversity, and empowerment.
We have ongoing career openings in a wide variety of roles and functions:
Crisis Intervention Advocates staff our Call Center around-the-clock, 365 days a year, providing assistance and counseling to those who call our Crisis Line.
Advocates support individual clients (adults and children) and families in emergency shelter and housing programs, in our Counseling Center, in Family Court, and in hospital emergency rooms.
Advocates provide case management and counseling and lead psycho-educational and support groups.
Licensed Therapists specialize in trauma recovery and provide individual therapy.
Trainers and Facilitators lead The Center's prevention work by providing workshops and by working with groups (community-based, schools, businesses and licensed professionals) to develop awareness, skills and capacities to create safer communities.
Cooks and Kitchen Assistants provide nutritious meals for the people who live in The Center's emergency shelter.
Housekeeping and Facility Assistants ensure that our buildings and grounds are clean, safe and well-maintained.
Fund Development Professionals plan and implement special events, coordinate Annual Fund campaigns, solicit in-kind donations, and write grants to ensure the Center's ability to sustain operations.
Administrative and Executive Professionals provide behind-the-scenes and on-going work to ensure efficient and compliant organizational operations including communications, finance and accounting, human resource management, data management and analysis, and program assistance.
Emergency Part-Time (EPTs) Employees provide on-call response to assist in the Call Center to ensure all services proceed uninterrupted. EPTs are not guaranteed hours and do not have regular schedules.
All staff members who work with clients must complete training to achieve certification from the Kentucky Coalition of Domestic Violence Association, the Kentucky Association of Sexual Assault Programs, the Indiana Coalition against Domestic Violence, and the Indiana Coalition against Sexual Assault.
What We Offer Our Employees
The Centers offers a full range of benefits, including:
Medical coverage (PPO or High Deductible Plan with Health Savings Account), with a monthly subsidy paid by The Center to offset employee cost
Life Insurance ($50,000) paid by The Center
Short Term Disability, paid by The Center
Paid-Time-Off of 20 hours per month (to be used for vacation, holiday, sick and personal leave)
401(K) Retirement Plan with company contribution
The Center offers employees the opportunity to purchase:
Voluntary Life (additional employee and/or dependents)
Long Term Disability
Dental (basic or premium plans) Insurance
Vision Insurance
Flexible Spending Account (self-funded)
Additionally, The Center is committed to self-care and provides an Employee Assistance Program as well as other means to ensure we can sustain ourselves to be at our best for our clients.
The Center encourages all staff to contribute to organizational excellence and to develop leadership skills through participation in a variety of committees including:
Front Line Team
Multi-Cultural
Queer Out Loud
Staff Appreciation
Growth & Learning
Awareness & Prevention
All staff members are encouraged to pursue career development, continue their professional learning, and deepen their skills through a variety of opportunities.
All open positions are posted internally, and all internal applicants are given consideration .
All employees complete a New Hire Training series that, in addition to training on intimate partner violence and sexual assault, includes

Professional Boundaries
Cultural Competency
Conflict Resolution
Trauma Informed Care
Safety Planning
Violence Prevention and Awareness Education

Regularly scheduled in-service workshops are scheduled during working hours
The Center is an equal opportunity employer. Our policies, procedures, programs and services are administered to ensure there is no discrimination on the basis of race, color, national origin, sex, religion, age, sexual preference, gender identity, familial status, pregnancy, genetic information (GINA) or disability.