September is National Suicide Prevention Month. As Kentuckiana's domestic violence and rape crisis center, we encounter survivors who have been impacted by trauma and mental health challenges that can affect their will to live. Learn more about how The Center supports survivors who are struggling in this way, and how you can play a role in supporting someone you love who may be at risk of suicide.
If you or someone you know needs support now, call or text 988 or chat at 988Lifeline.org. 988 will connect you with a trained crisis counselor who can help.
What causes survivors of violent relationships and/or sexual assaults to feel suicidal?
Natalie Patton, LCSW, therapist: Hopelessness is a key factor, and a perpetrator's use of coercive control has been shown to increase feelings of hopelessness. Survivors are often isolated, face stigma when trying to seek support, and often experience abusive tactics targeted at their mental health. This can include their partner using gaslighting techniques or threatening to use their mental health as leverage within systems. Safety is a basic human need that isn't met when a relationship is abusive, and living every day in survival mode takes a toll.
Mykayla Geraghty, Sexual Assault Service Coordinator and Question Persuade Refer (QPR) trainer: Feeling powerless and without hope in or control of your situation can be risk factors to suicidality. It's also a common manipulation tactic of abusers to threaten suicide when faced with waning control of their partner.
Do survivors who are suicidal often have other risk factors, such as depression and anxiety?
Mykayla: Struggling with mental health is a huge risk of experiencing specific, suicidal thoughts. However, it's not just one factor that increases suicidality; people tend to be beyond their threshold of stress tolerance for quite some time to feel hopeless. That's largely how suicidal thoughts can be summarized – loss of hope.
Natalie: Many of the risk factors for suicidality involve experiences of trauma and loss, and trauma and loss within the context of domestic violence and sexual assault are profound, so there is a strong likelihood that a survivor would have multiple risk factors.
What are some signs that someone may be suicidal?
Natalie: While there isn't a universally accepted list of warning signs, pay attention to not only direct statements about suicide, but also indirect statements that might indicate someone is struggling. Take notice when there are abrupt changes in behavior or outlook on life, such as a sudden interest in death or lack of planning into the future.
Mykayla: Statements like, "I'm just tired" are what I've heard most with clients, but that can mean a lot of different things, so it's important to focus on whether there's a pattern of behavior changes. You may also hear things like, "My loved one would be better off without me," "What does it matter?" or, "No one cares, but it won't matter soon anyway." Recognize these statements as invitations to ask the person how they're really doing.
Big changes also put people at risk for suicide, like the loss of an important relationship through death or divorce, losing a job, fear of losing freedom, and many other traumatic events our clients experience.
How do you treat survivors who may be showing signs of suicidality?
Mykayla: I treat survivors struggling with suicide the way I treat all my clients – like a person. It's not shameful to be tired of abuse. It's not wrong to feel like you want to go to sleep and never wake up. It just sucks. It sucks that someone you loved hurt you. It sucks you couldn't just go for a jog without someone seeing it as an opportunity. It sucks that you put your trust in someone who didn't deserve it. Statements like, "I see why you'd feel like this," and "Thank you for telling me" go a long way in destigmatizing suicidal thoughts. Listen and offer connection and hope in any form.
Natalie: I tell clients that it's common to experience suicidal thoughts and it's something we can talk about together. Many people have had negative experiences when sharing things about their mental health, so I talk with clients about fears around this. When there are any concerns about someone experiencing suicidality, I assess their risks and work with the client on a plan for the least restrictive option to keep them safe.
What has been your personal experience with domestic violence and/or sexual assault survivors at risk of suicide?
Mykayla: In my previous role as a sexual assault advocate, I saw people in emergency rooms at some of the worst, most painful moments of their lives. I often heard, "I'm just so tired," and "I want to go to sleep and not wake up." But if you asked these clients whether they were suicidal, most would say no. You don't need to have a plan, intent, or means to kill yourself to feel suicidal. Passive suicidality is when you don't want to die, but you're also tired of living. Praying to get into a car accident to have time to rest, wishing an abuser would just get it over with and kill them, or suicide by cop are all phrases or plans I've heard from people I've supported. When you lose enough hope to override your survival instinct, it's time to get connected to help.
If you suspect someone you know or love is at risk of suicide, what should you do?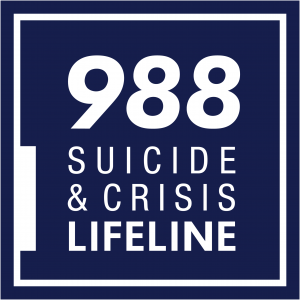 Natalie: Talk with them. Listen to them. In a non-judgmental and compassionate way, ask if they are thinking about suicide and help connect them to people who can support them. Asking someone about suicide doesn't put the thought in their head, but it can reduce the risk by establishing a connection and reducing the stigma that people can experience when struggling with their mental health. Offer to call 988 with them to talk about options, such as safety planning. Seek supports for yourself as you are supporting someone else.
Mykayla: If you're worried about someone you love, it's very easy to panic or go into problem-solving mode, but the best we can do is say, "Hey, I noticed you've seemed kind of down lately – is everything okay?" and checking in, or having someone closer to the person check in. Offering a confidential, supportive space to talk may save a life. Follow-up is equally important. If you leave this person in a good space, an offer of "Can I call/text you tomorrow/later to check in?" can do wonders in fostering hope. But if someone has a plan, intent to complete the plan, and the means to do so, you need to get help right away and stay with them until emergency personnel arrive.
About Natalie and Mykayla
Natalie Patton is a licensed clinical social worker and has worked for The Center for Women and Families as a therapist since 2018. Natalie provides therapeutic services for individuals at The Center's emergency shelter and has led initiatives focusing on suicide prevention and the intersection of domestic violence, mental health, and substance use. In addition to her work at The Center, Natalie maintains a private practice.
Mykayla Geraghty, Sexual Assault Service Coordinator and Question Persuade Refer (QPR) trainer, has worked at The Center for nearly five years, primarily in direct client service roles. She is passionate about suicide prevention, LGBTQ+ advocacy, and survivor empowerment. Mykayla began her social work career in teenage residential about seven years ago, and her current role in prevention and awareness is an intersection of all her professional passions.
If you or someone you know needs support now, call or text 988 or chat at 988Lifeline.org. 988 will connect you with a trained crisis counselor who can help.