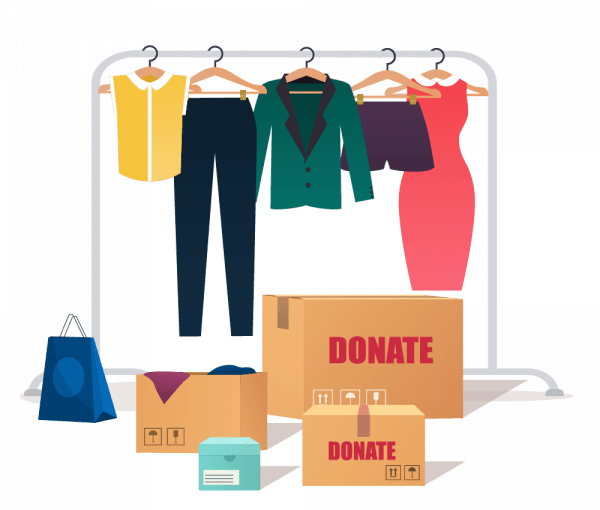 It's springtime,  have you found yourself in the middle of spring cleaning with boxes marked keep, donate and trash?
We get it. You want to help. You want your things to go to a nice home. You believe in our work.
Here's the thing, while we are truly so thankful that you are looking for a way to help our organization, we simply do not have room for all these items.  We are very fortunate that so many people think of those in our shelter who may have had to leave home with nothing but their shirt on their back.  What most people don't know is that managing all those donated items can be a full time job and the space required to store, sort and organize items would be considerable.
Until recently many people enjoyed a partnership we shared with area Goodwill stores in which you could drop off your used clothing and designate it towards The Center.  We would then get a voucher for our clients to go shopping and they could select what sizes they needed and find the items they were looking for.  We had a lot of great donors regularly dropping off items to area Goodwills asking they be designated for The Center.  Unfortunately that program is no longer available.
So what to do? 
Still have used items in great shape that you would like to donate? 
We have a list of great organizations that you can donate too.  Get a list of them here.
Want to do something else to help The Center?
Here are a few ways you can help.
Donate Online
Volunteer
Host a Facebook Fundraiser
Host a drive for needed new items (socks, underwear, shampoo – contact us at jane.white@cwfempower.org to see what's needed)
Like us on Instagram, Facebook and Twitter and share our posts
When in doubt, give us a call!
You can reach our development manager Jane White with any questions at jane.white@cwfempower.org or 502-581-7209.