Celebration of Service and Survival

The 2020 Celebration of Service & Survival: Mark your calendars for February 21st, 2020 for a night of celebration at The Marriott Downtown! Tickets, sponsorship requests, auction forms, raffle tickets and other information can be accessed here. You can contact Danielle Hacet for more information on the event.
We need your help! We rely on more than 75 volunteers to make this event successful. Volunteer positions include setting up, creating decorations, registering attendees, managing the silent auction, helping with the wine pull and raffle ticket sales, and much more!  No previous training is required.  To register to volunteer, click here. For questions on volunteering, please contact Brandy Bernauer.
At our annual Celebration of Service & Survival, The Center for Women and Families pays tribute to five Women of Distinction who have spent their time and talents advocating for women and girls in Kentuckiana. It's an elegant and festive evening featuring a cocktail reception, silent auction, dinner, and so much more!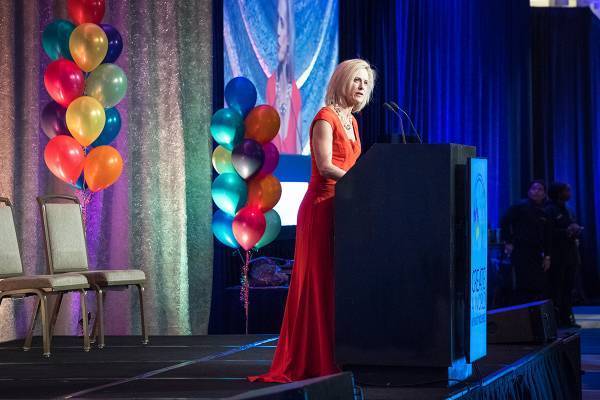 Since 1988, this annual celebration has honored more than 100 Women of Distinction as away of supporting our mission to provide survivors of intimate partner violence and sexual assault opportunities to transform their lives, and as a result, the lives of their families and communities.
The Center for Women and Families offers services free of charge 24 hours a day, 365 days a year throughout seven Kentucky counties and two Indiana counties. Our comprehensive programs address intimate partner violence, sexual violence and economic hardship through emergency services, legal and medical advocacy, counseling, economic empowerment and housing assistance, and prevention education.
2020 Women of Distinction
Angie M. Evans
Evans was promoted to Vice President, Corporate Responsibility and Community Affairs in March 2018, after joining LG&E and KU Energy LLC in January 2015 as Manager, Corporate Responsibility. In her role, Angie is responsible for leading community engagement and investments, key corporate responsibility programs and grant-making processes.
For 25 years, Evans has held leadership positions in both the public and private sectors. Prior to joining LG&E and KU Energy, she was Vice President of Community Leadership at the Community Foundation of Louisville. Before that post, Evans served as Director of Planned Giving at the University of Louisville after 8 years in the financial industry as a Vice President and Private Banker at National City – now PNC.
Evans began her career in the public sector, where she worked as Special Assistant to Mayor David L. Armstrong and as the Director of Affirmative Action.
Evans currently serves on the Centre College Board of Trustees and the board of directors for Actors Theatre, American Printing House for the Blind, Bates Community Development Corporation, Community Foundation of Louisville, James Graham Brown Foundation and Women Influencing Louisville. Her former board appointments included Louisville Urban League and the Kentucky Science Center.
Evans is a graduate of Leadership Louisville 2003 and Ignite Louisville 2006, and a member of the Business First Forty Under 40 class of 2002. In 2014, she graduated from Leadership Louisville's Bingham Fellows program focused on improving West Louisville.
Evans is a graduate of Center College and received her Juris Doctor from the University of Kentucky College of Law.
Maria Hampton
Hampton was the first female banker to break the "glass ceiling" in Louisville as the first woman Executive Vice President at what was then the Liberty National Bank. She reinvented her career thereafter leading the delivery of affordable and workforce housing in Louisville.
As the President of the Housing Partnership Inc., Hampton oversaw the enrollment of over 7,000 families in credit counselling, the creation of 2,700 new homeowners and installed the first local employer assisted housing program. She then accepted a position at the Federal Reserve Bank of St. Louis to lead efforts in Louisville to develop a new type of branch office focused on community development, economic education and regional economic growth.
Throughout the years, Hampton served on 28 different community boards and was recognized with numerous individual awards for leadership. She is a past Board Member and Chair of Norton Healthcare, Board Member and Treasurer of the Louisville Community Foundation, Bellarmine University Trustee, Board Member of the Center for Women & Families, and the Board of the Louisville Branch Federal Reserve Bank of St. Louis. Hampton was founding board member of Gilda's Club of Louisville and served on the board of Women 4 Women. Today she is active on the boards of One West and Independence Bank of Louisville as well as others.
Hampton received the Business First Excellence in Leadership Award, the Leadership Louisville "Spirit of Yes" award, Alumna of the Year Award at Sacred Heart Academy, the Tower Award from Presentation Academy, the Catholic Education Foundation Distinguished Alumni Award and she gave a speech with her daughter Gretchen as part of the 100 Wise Women series presented by Leadership Louisville.
Marta Miranda-Straub
Miranda-Straub has over 40 years of practice in clinical and organizational social work. Her career focus has been the creation of gender equity and the elimination of individual, institutional and societal violence. During her career, Miranda-Straub has held multiple roles, such as, executive leader, director, professor, social researcher, psychotherapist, community organizer, advocate, activist, coach, trainer, and public speaker. She applies an intersectional feminist lens to all she does.
Miranda-Straub's life has been dedicated to violence prevention using a public health and public safety model grounded in social and economic justice. Her clinical focus has been mental health and substance abuse with a focus on trauma and healing from intimate partner violence, sexual assault and childhood sexual abuse. She has worked extensively with victims, families, and batterers. Her research and training have focused on assisting trauma workers and impaired professionals suffering from secondary PTSD.
Miranda-Straub is the immediate past President/CEO of The Center, during her tenure she led the organization thru a major facilities crisis, implemented violence prevention programs, secured up to 8 figure gifts and led multiple violence prevention community initiatives including Collective Impact community interventions.
Prior to being serving as the President/CEO of The Center for Women and Families, Miranda-Straub was the chair of the Women and Gender Studies Program, Executive Director of Multicultural Student Affairs and Tenured Professor in the Anthropology, Sociology and Social Work Department at Eastern Kentucky University for 17 years.
Miranda-Straub has received numerous awards, including The Kentucky Coalition Against Sexual Assault's SAMMY honoring her for 40 years of advocacy for sexual assault survivors, the Martha Layne Collins Women Leading Kentucky Award, Ali Center's Daughter of Greatness award, and the Center for Nonprofit Leadership and Excellence award. She was also celebrated as a founding member of the Bluegrass Rape Crisis Center in Lexington and was named a Compassionate Laureate by Major Greg Fischer.
Darlene Thomas
Since December 2004, Thomas has served as founder and Executive Director for GreenHouse17, an advocacy agency committed to ending intimate partner abuse and its impact on families and the community serving 17 central Kentucky counties.
In her 30-year career as an advocate for survivors of power-based violence and their families, Thomas has been responsible for direct service, comprehensive program development, and community engagement for social change efforts.
Thomas provides leadership for multiple community collaborations and committees; provides expert testimony on legal cases; facilitates professional development training for local, state, national and international forums, and provides consultation for organizations who are seeking strategies to reimagine their services.
Under her leadership, GreenHouse17 programs and services have received statewide and national awards for innovation, including the Mary Byron Foundation Celebrating Solutions Award, the Kentucky NonProfit Network Innovative Award, and the Center for Non Profit Excellency Pyramid Award for Social Innovation. The agency was also a national finalist for the Partnership for Freedom/Re-imagine Opportunity award.
Thomas was a past-president of and currently serves as Legislative Chair for the Kentucky Coalition against Domestic Violence Board of Directors.
Marita Willis
Willis is a native of Kentucky, where she studied at the University of Louisville. Professionally, Willis began her career as a teller at the Bank of Louisville. She quickly moved through the field of banking and acquired numerous experiences in lending, developing expertise to catapult her into the government and corporate financial service industry.
Willis joined PNC Bank in August 2002 as Vice President of Community Development. As a Community Consultant, her primary responsibility was to aid in transforming low- to moderate-income neighborhoods through education and financial resources.
After leaving the banking industry, Willis worked at Community Ventures Corporation, a non-profit, as President of eHome America, a suite of online financial education products that offer affordable financial education to thousands of customers across the globe.
Willis worked as a Philanthropy Officer at the American Red Cross for a few years and is currently the Chief Empowerment Office/Executive Director at Hope Collaborative Inc., a non-profit serving the distressed community through various programs.
Willis is distinguished personally and professionally as a result of her relentless efforts, giving of her time and energy, while working to empower youth and improve community relations and services.
Willis was the 2019 Chair of the KY Derby Festival and serves on the boards of various organizations: Louisville Water Company Foundation, Housing Partnership Inc., Kentucky Youth Advocates, and Norton Healthcare Children's Foundation. She currently chairs the Metropolitan Sewer District (MSD) and serves as an Ambassador for Churchill Downs. She also serves on the Community Development board at Bates Memorial Church.
Click here to see previous years' Women of Distinction.